STOP LOSING SHOTGUN SHELLS.
Our Magnetic Force Technology delivers the power to hold your shotgun shells without elastic loops that stretch loose and dump shells in the water.
MADE IN USA - 5 YEAR WARRANTY
CAPACITY
24-Shotgun Shells (12 gauge or smaller)
WEIGHT
1 lb empty, 3.5 lbs loaded with 3inch #4 Shot
DIMENSIONS
11.25 inches long, 6.25 inches wide, 1.25 inches thick
VERSATILITY
The Vendetta is designed to be adaptable to every hunting situation. Our oversized carabiners easily attach to the front of your waders d-rings or our custom Timber Belts. Will fold open to sit freestanding beside you on a duck blind bench or in your favorite layout. When it`s time to move, easily transport it in your blind bag or over your shoulder using our Sling Attachment.
STANDARD vs SUPER CHARGED
Our Vendetta's are available with STANDARD or SUPER CHARGED Magnetic Strips. The STANDARD balances retention with easy extraction. The SUPER CHARGED offers a secure firm hold even when the unit is open.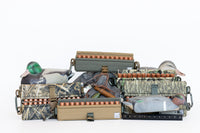 ABOUT US
We are a family owned and operated business based in Lenox, GA. Growing up in the woods and water we desired to turn our passion into a business. Through that experience we developed an understanding of the importance of having reliable gear that performed in the toughest of conditions. Through prayer and determination we were able to create a solution to a problem we struggled with for years. So here it is. The COVO VENDETTA.
2022 SEASON
FOLLOW US & SEND US YOUR PICTURES
Ontario, Arkansas, Alaska, Alabama and Georgia